We love to receive questions from customers enquiring about the way we deliver software, so if you have a query that's not answered here please do get in touch.
Check out some of the FAQs that we commonly ask our potential new customers to get an idea of the information we usually request when we're discussing a potential software project with you.
If you're looking to find the perfect software development team partner, we hope this FAQ will answer some of the more common questions we receive from new enquiries.
When was Atlas started?
Atlas was founded in 2007.
Who was Atlas started by?
Atlas was founded by Simon Swords and Dean North, you can see them both on our about us page.
Dean and Simon both share a passion for building software to solve complex and unique business obstacles. Prior to starting Atlas, Simon and Dean worked together for a top 100 London law firm, experiencing every corporate cliché including a toxic culture, office politics, questionable management policies and more! This gave them both the drive to establish a happy and successful business where like-minded individuals could work together to create software they could be proud of.
How much do you charge for software development and support?
Our clients could not be more diverse or operate across a greater range of industries; therefore, we use two different models to deliver software to our customers – fixed-term software development and ongoing software development. The model we use to approach your project with will depend on your particular requirements.
Fixed-term software development
This model allows us to provide a fixed scope piece of software, usually based on detailed requirements. Your need should be self-contained and have clearly defined outcomes and requirements.
Wondering what your software development might cost?
Download our free guide to how much bespoke software costs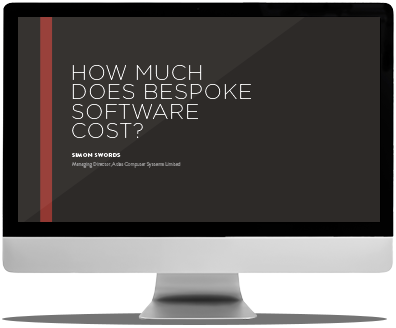 Ongoing software development
If you're looking for a team of coding/testing and associated experts to work with you to provide ongoing software development, we charge for this on a weekly or monthly basis.
How long is it going to take before we start to see results?
This is going to be largely dependent on your project. Once you have approached us with your software development enquiry we will set up a free of charge, face to face meeting which will allow us to work with you to get a feel for the size and complexity of your project.
Once we have an understanding of your business requirements, we can begin to formulate an estimated cost and timescale, which we will usually present in the form of a range. For example:
"Based on our experience, we believe that a project of this magnitude could take four to five months to develop and would require a budget of approximately £60-80K"
At this point, we will provide any additional information about your project and the next steps that we propose to take before delving into detail even further to refine the solution. This can involve workshops, the creation of specification documents and even more in depth conversations that move us closer to a final, more accurate estimate.
Will there be any ongoing fees upon completion of the development?
This will, again, largely depend on the nature of your project and the requirements you lay out for it. If you no longer require hands-on support from us, you will, of course, not be charged for this; however, fees may apply for ongoing hosting, service level agreements and domain name renewals, etc.  We're always transparent about these at the outset, there are never any hidden costs.
What technologies do Atlas specialise in?
All Atlas developers are experts with many years of software development experience in an array of primary languages and frameworks, allowing them to explore all available options when choosing the best technology, platforms and tools for your software project. As a result, our developers acquire experience with an multitude of technologies.
Do you provide software testing services?
We are very proud to have a devoted team of International Software Testing Quality Board (ISTQB) qualified testers amongst our ranks, who work tirelessly to ensure that your software project is a total success.
We always gear out services to the needs that you articulate – some systems require more/less of certain kinds of software testing than others, and we will always be clear on how much (or little) testing your software needs.
Our testing strategy will be customised to ensure that the best tools and processes for your particular software project are used.
Do you offer software support and maintenance?
We provide a comprehensive service level agreement (SLA) so you can be reassured of support from the moment that your solution is launched. This includes team-wide knowledge retention, background system maintenance and general user support on the use of the software.
Our support agreements provide the following reassurances:
Friendly, helpful and knowledgeable staff are always on the end of the phone, email or support ticket. Tickets are dealt with by one person, who takes ownership of your issue from the start.

We will help you with anything in terms of using the solution's functionality.

SLA support and resolutions within estimated time periods.

Investigating potential issues or questions.

Retention of knowledge of the system. We have excellent knowledge of our systems both as individuals and within our team. This means that we can answer questions quickly and understand issues without the need for long explanations.

Database maintenance, keeping on top of performance, indexing etc.

Restoring from backup if we provide hosting and this is required.

Importing and Exporting data.

Account management and meetings.

Source code retention.
Do you have a support desk? If so, when is it available, where are your help desk representatives based and when can I contact them?
We have a dedicated in-house support desk that is available from 9am to 5.30pm GMT, Monday to Friday who can be contacted via telephone, email or our helpdesk portal which you will be provided details for. Our help desk works closely with our quality assurance and development teams, which means you have access to the right people at all times to ensure high quality and rapid responses.
Who owns the Intellectual Property on the finished software solution?
You do. Here at Atlas, we believe that it is your software, so you should own the IP! We guarantee that all aspects of design and construction of the project will be disclosed to you upon completion, and full code, copyrights and ownership will be the sole property of your company.
Can I see a copy of your standard terms and conditions?
Of course! Get in touch and we will happily share these with you.
Hopefully, these FAQs have answered some of your burning questions about Atlas as a software development company, and have helped you along in your journey to find the right software development partner for your project.
Check out some of the FAQs that we commonly ask our potential new customers to get an idea of the information we usually request when we're discussing a potential project with a new customer.
We look forward to hearing from you and discussing the future of your software development project.