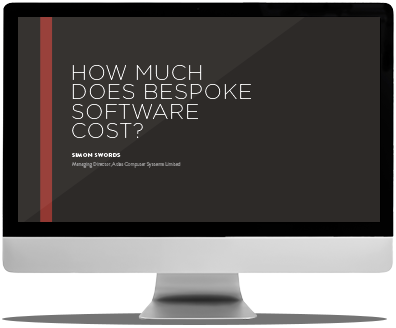 Wonder no more with the latest Free Guide from Atlas Managing Director Simon Swords, 'How much does bespoke software cost?'
Simon shows you in this Free Guide how to understand the return on investment (ROI) of your software project, what exactly does software cost to develop and exactly how the Atlas team calculates bespoke software development costs.
Table of Contents
Understanding the ROI of your software project

Demystifying the art of software pricing
How bespoke software generates additional revenue
Case study
How bespoke software generates financial savings
Case study
Software cost must always be compared with ROI

What exactly does software cost to develop?

Fixed-term software development costs
Ongoing software development costs
1 full-time developer, no testers
2 full-time developers and a tester
3 full-time developers, a designer and a tester

How we estimate your project when you initially contact us
Conclusion
Enter your email address below to get your Free Guide today!
Wondering what your software development might cost?
Download our free guide to how much bespoke software costs