Track inventory and control your stock with easy to use custom inventory management software designed specifically for your business
Software development is sometimes seen as a job that's detached from business functions. The reality is far from that. If coding is not reflective of the reality experienced by system users at all levels, it will fail to fulfil the function it's designed for. That's especially notable with stock control software – your inventory management software needs to be responsive to the fast pace characteristic of a busy warehouse, where a vast and diverse range of goods are moving in and out in different quantities on a variety of vehicles in a meticulously organised fashion. It's a ballet requiring precise choreography.
Wondering what your software development might cost?
Download our free guide to how much bespoke software costs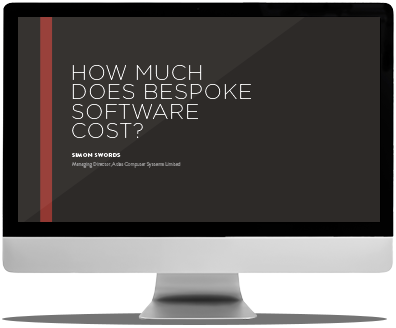 Effective warehouse management software can speed up the processes involved in quoting, ordering, and invoicing of inventory. You'll also want to create data from those stock transactions to show trends that you can respond to and capitalise on.
The bespoke inventory management software we offer is scalable, meeting all the needs of small business operations, but also capable of satisfying the requirements of larger companies. It's all about being able to track substantial amounts of fast-changing data that allows both for remote access and access for staff on the warehouse floor. The bottom line is the return on investment (ROI), and we always build software with that in mind.
Precise Stock Control
Your ability to ship accurate orders on time is based on being able to know exactly where your stock is at any given time. With that knowledge, you can coordinate optimal stock levels across your operation. Our inventory management software can achieve all of that for you, allowing you to optimise stock levels and maintain the right quantities of the right products, improving profitability, reducing dead stock and ensuring the transparency of key business data.
Given the fast-moving nature of stock operations, you'll want to minimise time for your warehouse staff to learn new software. With that in mind, one option we've pursued with a number of customers is to relate solutions that integrate with their existing software, allowing you to adapt with the minimal of changes and update your technology without introducing unnecessary friction.
Taking user needs into account
Staff on the warehouse floor need handheld barcode scanners enabling them to identify the precise stock they're looking for. It's often the case that not all locations are internet-friendly, making the relevant technology redundant unless it works offline. There's more than one solution in a situation like that and as we have come across this problem before we're sure to have just the right fix for your business.
Looking for the best handheld Bluetooth barcode scanners for your warehouse staff? We have just tested two of the most popular companion scanners on the UK market, the Opticon OPN-2006 vs Zebra CS4070 Handheld Bluetooth Barcode Scanners.
At another level, determining exactly who gets access to key business data is a question for you to answer. We make it possible for you to set access permissions at the user level so that data is kept to those people you want to have that information.
Case study
Hayley Group Ltd has been growing consistently since 1976, with an inventory exceeding one million products, four locations across the UK, and a worldwide customer base. We conducted an inventory management system audit and discovered that many of their systems had reached the limit of their flexibility and were now compromising the company's continued growth.
A substantial operation like Hayley isn't geared to stopping while a new approach or system is devised and installed – customers would go elsewhere. We took the time to get X-ray understanding of their systems and current software, and devised solutions that were based on existing technologies used for a long time by hundreds of staff. Making sure to get their support for new interfaces and functions, we included end users in an ongoing feedback process to our responsive software development strategy.
In terms of the bigger picture, we introduced an automated ordering system to maintain stock at agreed levels. Achieving this took the skilful integration of new software within the framework of an existing use of secure file transfer protocol (SFTP) for regular data transfer. The result of this substantial reinvention of a complex system? Customer happiness and increased efficiencies.
"Over the last twelve months, I have been extremely impressed by all the staff at Atlas. From the way they answer the phone to the understanding of the programmers to produce exactly what the brief specified I have not found many companies that are as proficient and professional as the team at Atlas. On the rare occasion, we have been under pressure to deliver to our customers they have excelled in supporting us and delivering exactly what is required."
Mark Harrison – National Account Manager, Hayley Group PLC
How Atlas Can Help You

If you're interested in finding out how Atlas could help you with bespoke inventory management software, call us now on +44 (0)800 133 7948 for a free no-obligation consultation.
Our work
Two of our recent software projects, see Our Work for more Case Studies.
Industries & Customers
We have worked closely with a range of industries and truly understand that no two customers or businesses are exactly alike. This is why we tailor our services and technology to our customers specific business needs.
Our varied and extensive industry knowledge ensures that our software development team are perfectly placed to understand and deliver value to your business quickly and efficiently.
Software as a Service (SaaS)