Atlas offers software testing from our ISTQB qualified testers to ensure your software project is a total success
Developing software is a lengthy process, often involving a team with different specialisations. What's essential is that the work being done results in software that's not just functional and meets the needs of the business, but that it has no hidden surprises.
Wondering what your software development might cost?
Download our free guide to how much bespoke software costs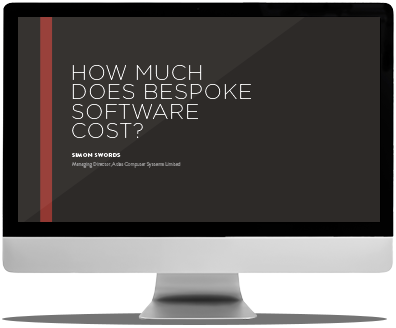 It's essential then that part of the process of software development includes software testing. That applies both to the intended business purpose of the code, and technical aspects of its construction. Before you go anywhere near clients, whether that's the market at large or a specific client you developed a particular software package for, it's vital that you present them with something that does what it's designed to do.
A software testing plan will ensure that software you've put so much time and talent into developing is fit for purpose. We offer an objective check, thanks to our outside expertise, conducted by seasoned software testers who are qualified with the International Software Testing Quality Board (ISTQB). In addition, we have the distinction of being the UK's only software testing consultancy to have developed an automated testing platform, Things Click.
We gear our services to needs that you've articulated – some systems need more of some kinds of software testing than others, and we'll be equally clear if yours needs less. You'll experience the same clarity in all your dealings with us, our objective is always to give you the precise data you need to progress with your software project. We'll also give you the benefit of our considerable experience around the fastest track to getting your software released as good as possible, as soon as possible.
We'll customise our testing strategy to use the best processes and tools for your particular software project. You can trust us to ensure that:
The tools and processes we use will be suitable for the level of coverage you need.
Our documentation is clear, easy to interpret and understand and gives you and your team the confidence you need in your software project.
Our software testers will always seek to find ways to optimise getting your application ready for release.
Smart Automation Supports Smarter Testing
Our bespoke Things Click automated software testing system offers numerous advantages you can make the most of in your software testing process:
Repeats tests automatically long after you're tired of doing them manually.
Keeps going, allowing you to stay on top of your software testing backlog.
A budget-conscious alternative to dedicated testing or Quality Assurance hire.
Creates time for Regression Testing.
Optimises the time you spend on your software testing plan.
Contexts for Testing
While most of the software testing we do is geared up to customer-facing software projects in development, our software testing services can be useful in other situations too:
App-testing is invaluable, given the marketing as well as the commercial value that an effective app has. Want to make sure your app meets user requirements in a range of situations? Get us to test what you've created.
In addition to being able to fulfil a customer's testing needs entirely, we can beneficially work as an outside adjunct to an in-house team. Getting that second testing from a trusted source can make all the difference on a mission-critical and time-sensitive software project.
We can undertake security-focused tests, comprising automatic penetration tests conducted in real-time as part of the wider testing of your IT matrix, with a view to offering guidance and maybe practical assistance as a result.
Whether you're used to doing software testing in-house or are considering working with a software testing consultancy, call us now on +44 (0)800 133 7948 and we'd be very happy to have a free no-obligation talk about your needs.
Our work
Two of our recent software projects, see Our Work for more Case Studies.
Industries & Customers
We have worked closely with a range of industries and truly understand that no two customers or businesses are exactly alike. This is why we tailor our services and technology to our customers specific business needs.
Our varied and extensive industry knowledge ensures that our software development team are perfectly placed to understand and deliver value to your business quickly and efficiently.
Software as a Service (SaaS)